Bar and wire rod drawing
Drawing is a process of cold metal forming, in which the processed material moves through a suitably shaped hole of a special tool called a drawing die. This is done by a force applied to the drawn part of a bar or wire rod.
The aim of drawing is obtaining products in the form of bars or wire with very precise cross-sectional dimensions, smooth, bright surface and specific mechanical properties, which can be obtained only through this method of manufacture.
As a result of drawing geometric and mechanical characteristics of the material gets changed, transverse dimensions get reduced (e.g. diameter) and length gets increased with no change in volume (waste-free processing).
As a result of plastic deformation in the drawing die material gets also strengthened – an increase in strength properties and decrease in plastic properties.
By drawing we manufacture both round as well as skirt guided material – hexagons, squares or special profiles of a complex cross-sectional shape.
The production process of a drawn product apart from the fundamental drawing operation requires a number of auxiliary operations both before and after the major operation, depending on the required drawn product characteristics resulting from the final material application.
The execution process of the final product typically includes the following operations:
Before drawing – preliminary operations
surface cleaning of wire rod from scales resulting from metallurgical processes (rolling, heat treatment, etc.),
diameter reduction of the end by pointing or forcing through
preliminary straightening – single or multiple
These operations are performed on specialized machine tools such as:
shot-blasting machines
roller and cylindrical straightening machines
pointing machines, rolling mills, push pointers
Surface cleaning
Surface of rolled products is covered with scale, which is a mixture of iron oxides resulting from high-temperature treatment of steel in the air atmosphere. These oxides stick firmly to the surface and must be removed before drawing.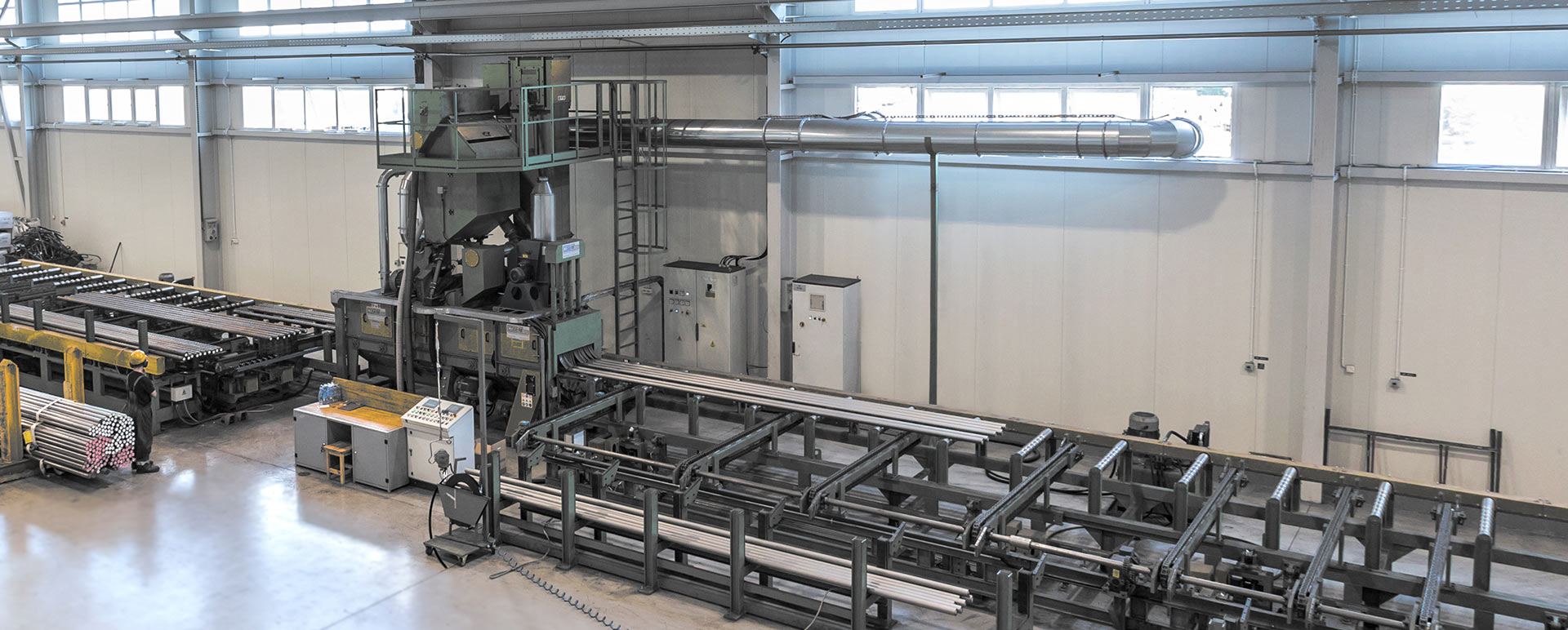 Preparation of bars surface
In STALMA we use mechanical cleaning, so called shot-blasting – consisting of scale removal with steel abrasives. In this technology material is hit by steel abrasives shot with high energy by turbines. This is done in specialized machines, so called shot-blasting machines. The shot-blasting machines are equipped with highly effective ventilation systems preventing penetration of motes to the atmosphere. Shot-blasting is an environmentally friendly method.
End pointing
To begin drawing it is necessary to point the end in order to insert material into the die and to grasp it by a clamp of a pulling block. End pointing can be done e.g. by machining or rolling. At present the end diameter is reduced by push-broaching – achieved on special horizontal hydraulic press, so called forcing-in-machines. Pointed ends are cut off after drawing.
Drawing – main operation
The material being subject to processing is metallurgical hot-rolled semi-products in the form of rolled bars or wire rod in coils. The fundamental drawing operation described at the beginning is performed on special equipment characteristic for drawing plant – such as:
drum-type wire drawing machines
bar draw benches
multi-function drawing combined-machines
Depending on input material and deployed equipment we can perform drawing processes – bar to bar, wire rod to bar or wire rod in wire in a coil.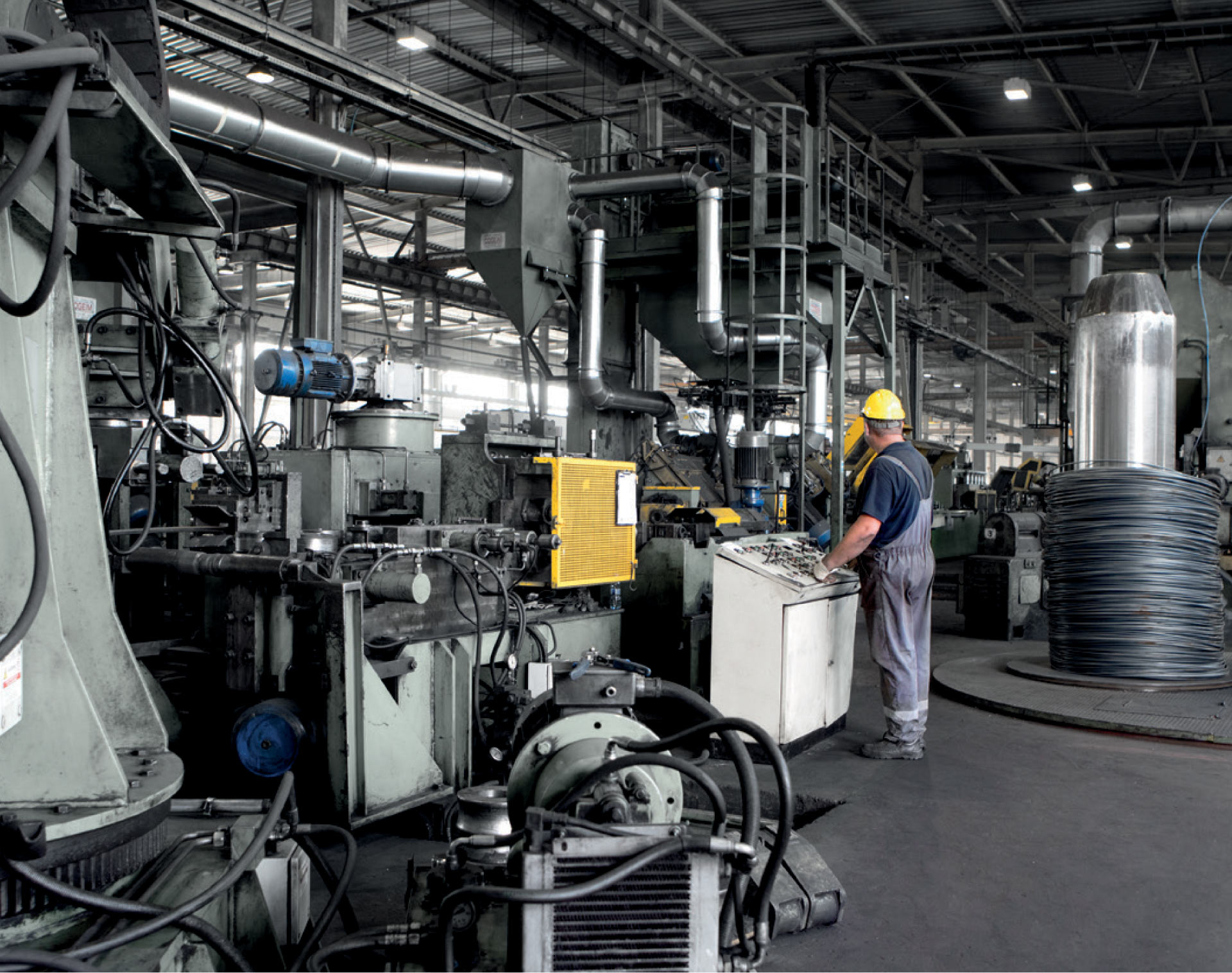 Input of the drawing process
After drawing – finishing operations
cutting and cropping
straightening
finishing ends – chamfering
inspection operations – special e.g. NDT
anti-corrosion protection
packing, dispatching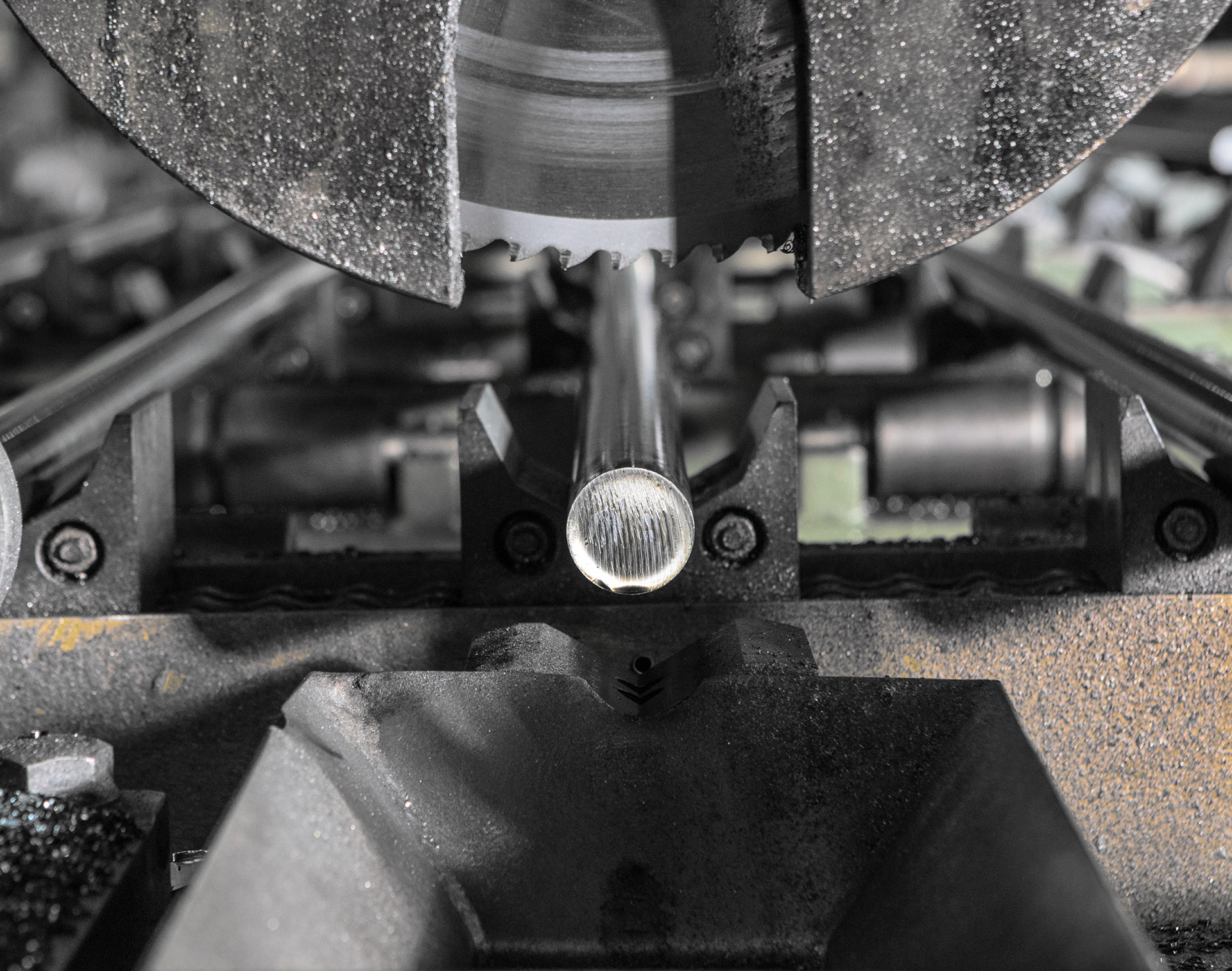 Bar cutting to length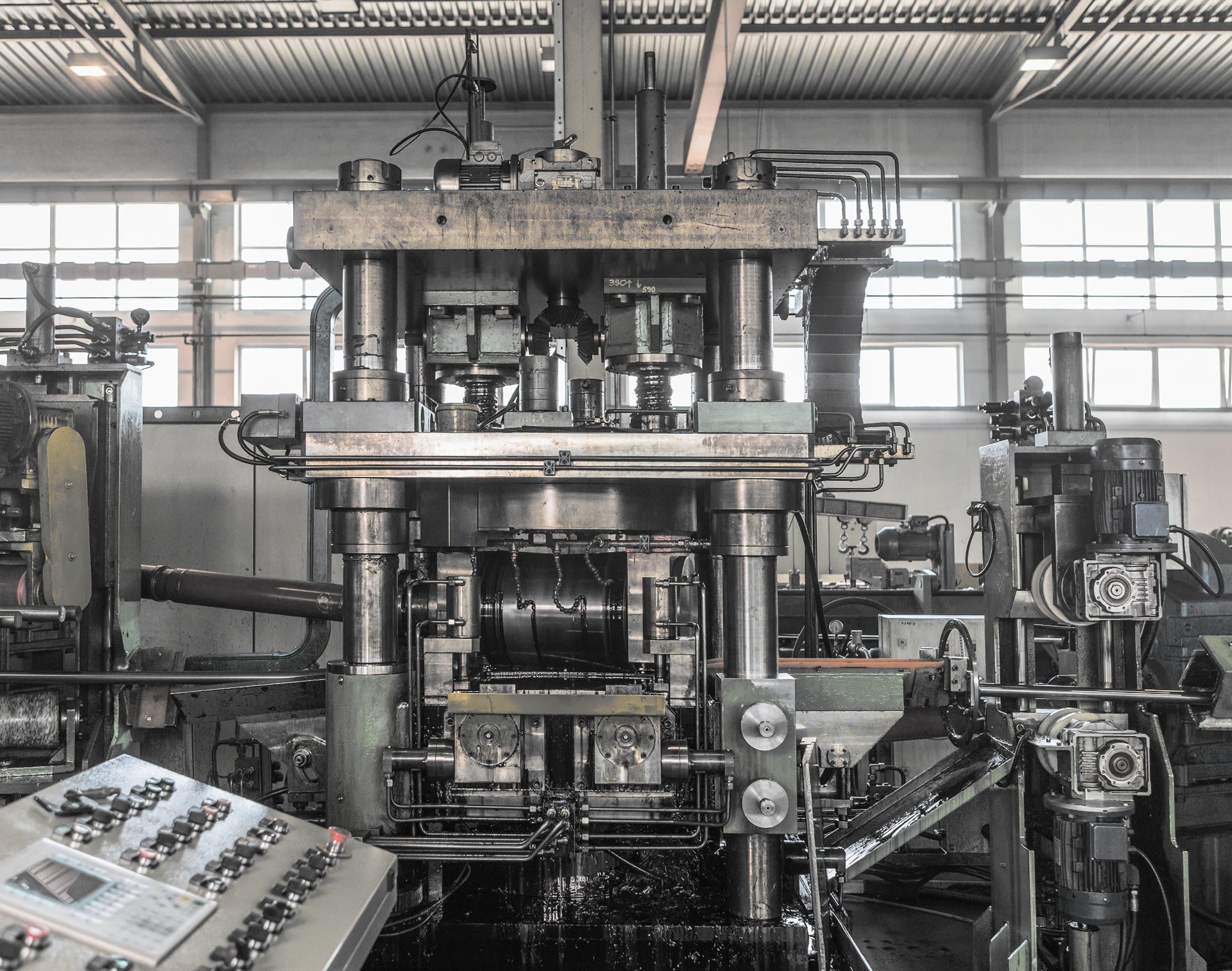 Bar straightening
Cutting
After having been drawn bars are subject to cutting to suitable lengths. Cutting can be done on shears or saws. As standard bars with dimensions from 4mm to 40mm are cut on shears, bars over 20 mm can be cut on band-saws or circular-saws. Cutting method affects the bar production cost (cutting on shears: less accuracy – lower cost, cutting on saws: higher quality – higher cost).
Straightening
After drawing the straightness of bars may be insufficient for some applications and bars can be subject to additional straightening. In case of manufacture of bars on combined drawing machines, the line is equipped with vertical and horizontal roller straightening machines allowing execution of straightening in mutually perpendicular planes as well as roller straightening-polishing machines to ensure obtaining high straightness. In case of thick bars straightening is done on separate devices in the form of roll, multi-roll and skew-roll straightening machines.
Finishing ends – chamfering
Bar ends may be additionally processed – one or both sides, being a subject to planning of a bar front and chamfering. The subject to chamfering operation is usually free-cutting steel bars intended for further processing on automatic lathes. Technological equipment allows for chamfering bars in all dimensions from 10 to 70 mm. Standard chamfer size 2.5 mm/45 degrees.
Anti-corrosion protection
In the final phase of processing the surface of drawn, peeled or ground bars is covered with special anti-corrosive oils. For preservation we use products ensuring the long-term storage of bars under normal storage conditions. Applied anticorrosive measures are not intended for storing bars in shelters without walls and on open grounds.
Ultimate inspection of products
In all phases of the process starting from acceptance of rolled semi-finished products until finished goods are dispatched we conduct continuous supervision of product characteristics and process parameters. Irrespective of product supervising during manufacture, the finished product is subject of inspection, too. STALMA has a specialized test-research laboratory allowing for the comprehensive assessment of manufactured products.
NDT line for the inspection of bar surface
STALMA has at its disposal the modern automated line for flaw detector inspection of steel bars based on eddy-currents method. Agreeing on checking the surface with the use of non-destructive testing methods is possible for offered products (NDT – Non-Destructive Testing). The applied comprehensive method of flaw detector inspection with the application of a defectomat, a circograph and a magnatest in one testing line, enables to check the 100% of bars in the examined batch. Inspected products have a guaranteed surface quality – documented and confirmed by corresponding certificates. The method of testing is objective and has a very high degree of certainty.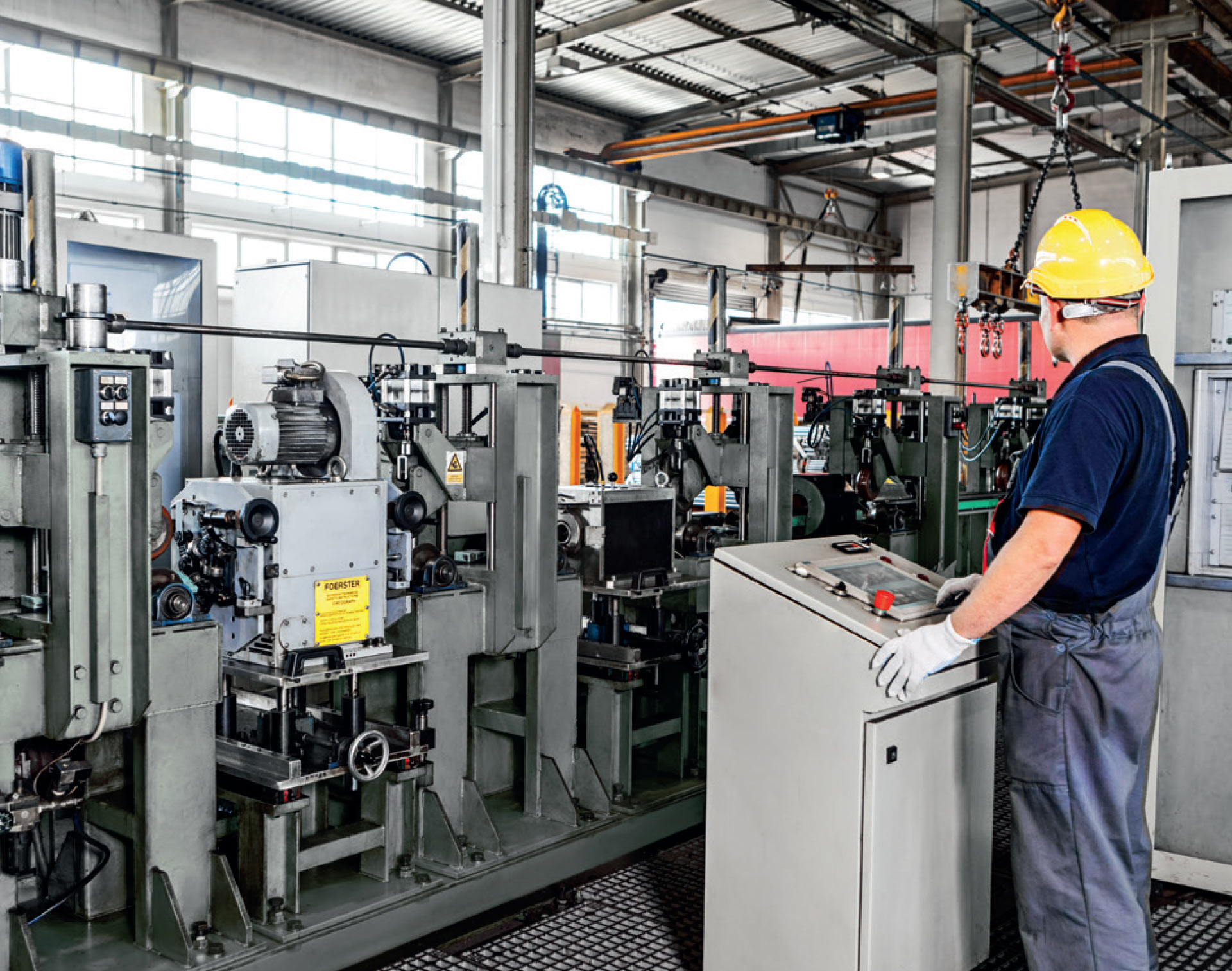 Line for surface testing using the ECT method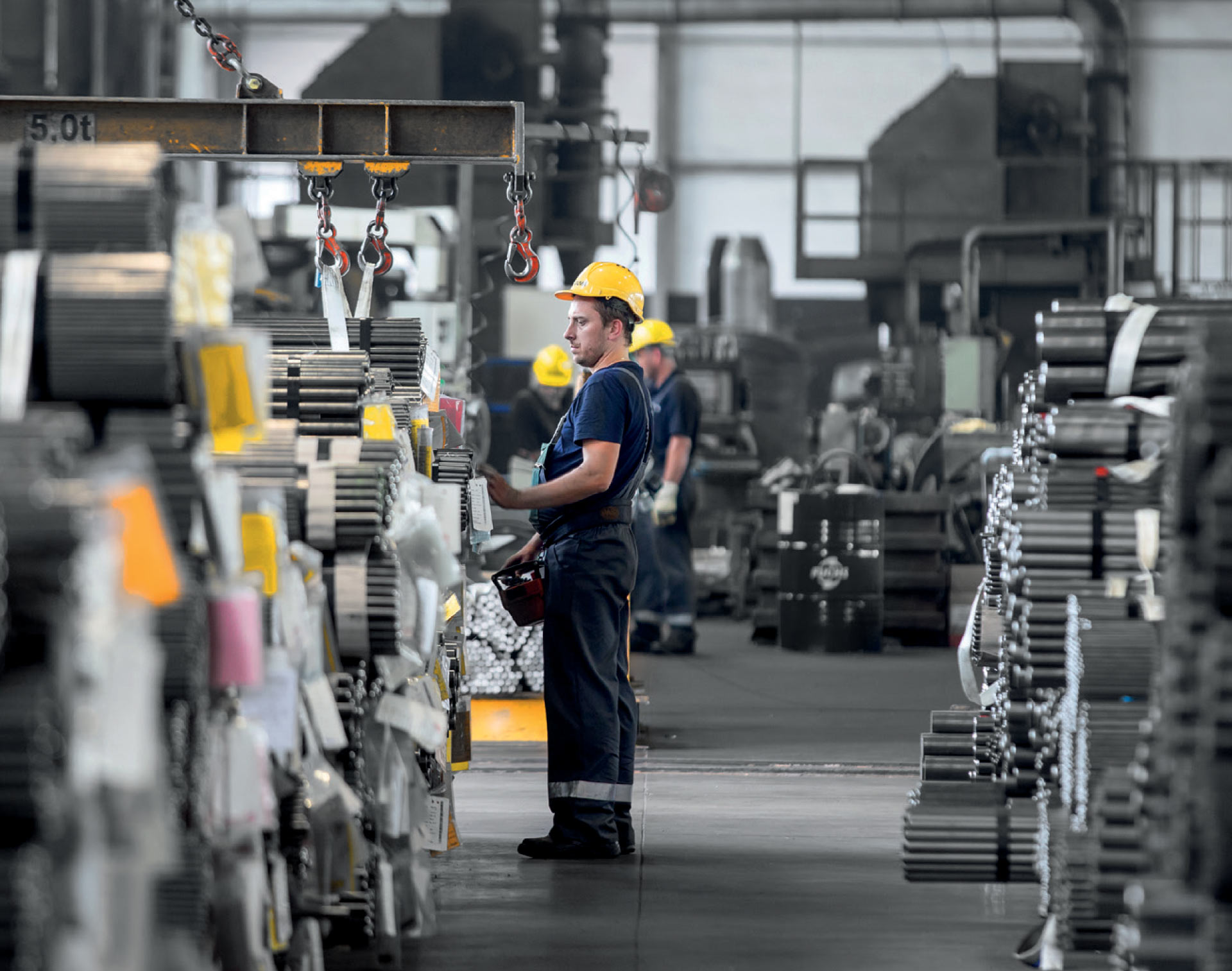 Finished products warehouse
Packing
Bright steel products are packed in bundles, tied with steel strapping, uniformly spaced on the bundle length. Each bundle has two transportation webbing slings to facilitate unloading with overhead cranes. Additionally, bundles can be wrapped in special crepe paper and anticorrosion foil. Another possibility is packing bars in wooden boxes. Ground bars can be individually wrapped in crepe paper or protected by cardboard tubes of a diameter suitable for a particular bar dimension. Transport to a client takes place by trucks, exclusively in covered sealed means of transportation. Atmospheric impact is limited to the minimum.
Bar peeling
In metallurgical processes when rolling long products, it is not possible to have produced bars and wire rod with no surface defects. In practice, these products always have defects of metallurgical origin – both of mechanical nature such as scratches, shallow discontinuities, overlaps, etc., as well as of other nature such as soft skin.
Permissible defects for those defects are defined in European standard EN 10 221.
In the processes of drawing, which is waste-free processing method, these defects cannot be removed completely. If the intended use or function of the product requires the use of material without any defects, it is necessary to remove the surface layer. Removal of surface defects is possible thanks to technology of peeling and grinding bars.
Steel peeled bars are usually produced from rolled bars on a special machine tool – peeling machine.
Rotating head equipped with knives of carbide blades ensures the removal of surface layer with common metallurgical defects, which typically occur in shallow depths.
As a result of peeling one obtains a product with high accuracy in diameter – class IT9 – characterized by a very good surface, satisfying the requirements of class 3 according to European standard EN 10277.
The obtained surface quality and dimensional tolerances allow for reduction of excess material during further processing.
Mechanical properties do not get changed during peeling – the finished product after peeling has input material properties.
Both rolled bars and drawn bars – hardened by cold work can be a subject to peeling. Peeled bars can also be used as semi-finished products for further processing and subjected to e.g. to drawing or grinding to obtain the required characteristics.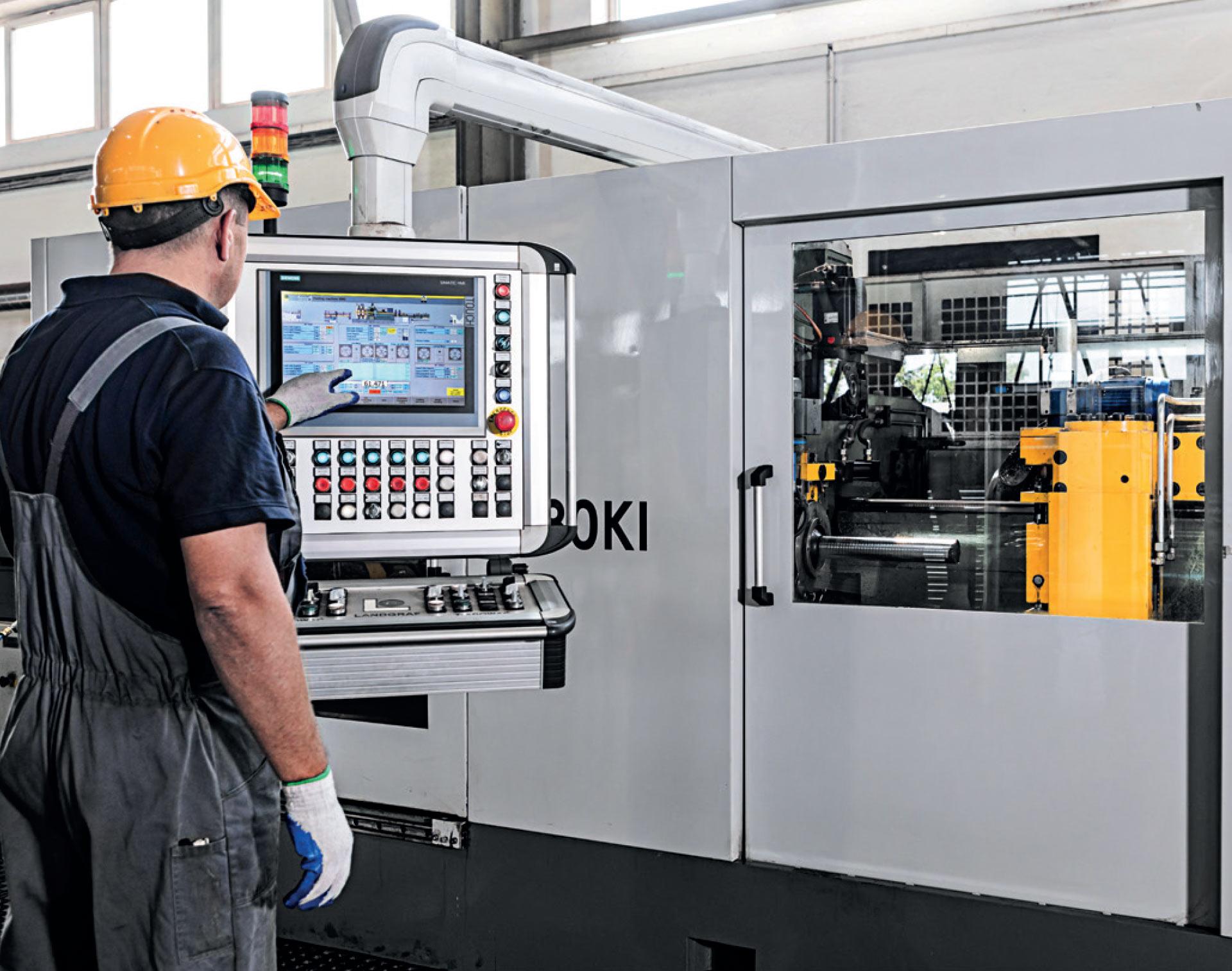 Bar peeling machine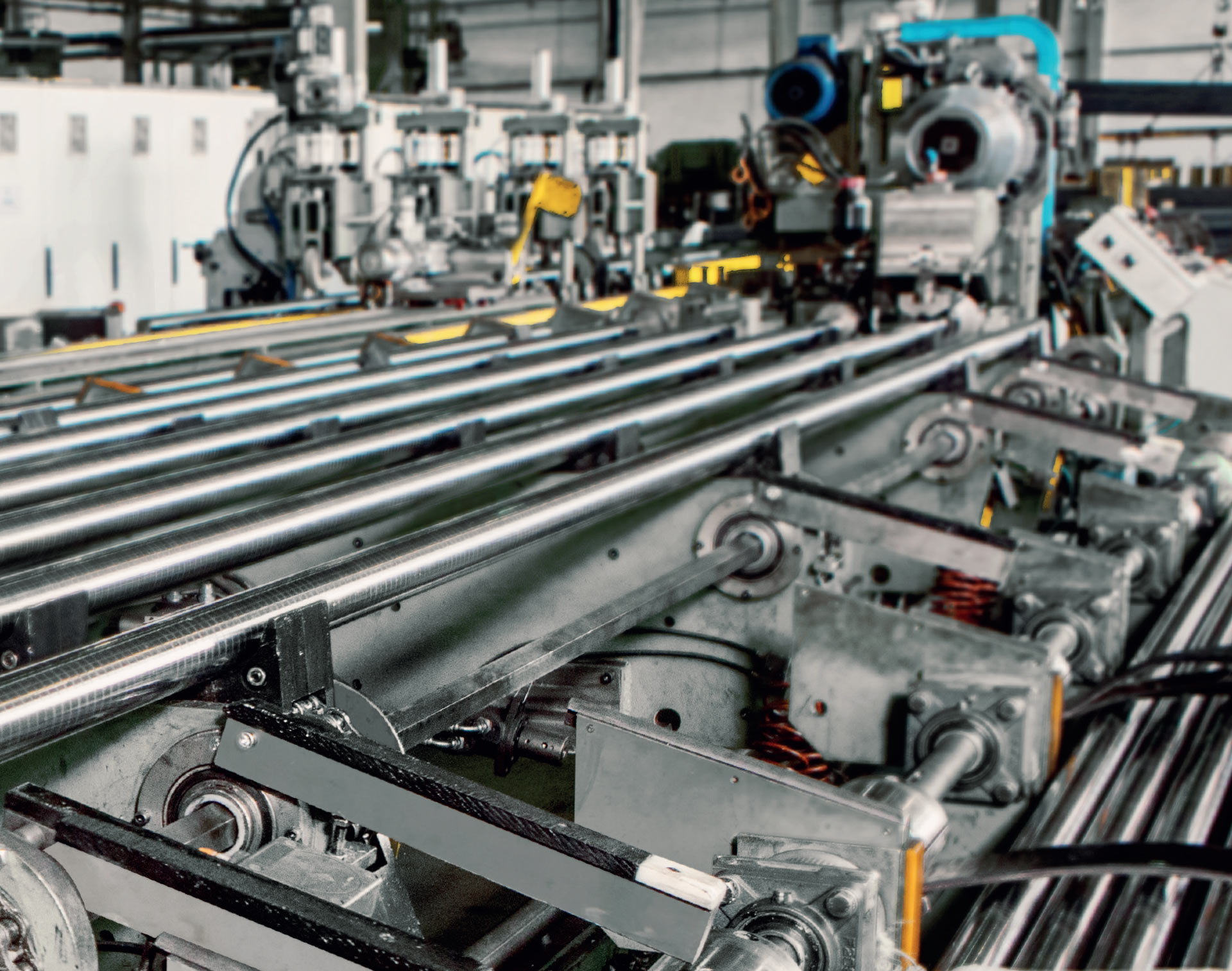 Machining of ends of peeled bars
Bar grinding
Ground bars are characterized by the highest quality among bright steel products. Grinding is a precise decrement processing done with the use of grinding wheels on special machine tools – centreless grinders.
Ground bars find application in the production of the most responsible part of the machinery.
STALMA has modern lines for grinding bars up to 6m long. The lines are fully automated; they have a system of an active diameter control in real time – with the help of laser control equipment for 100% processed bars.
STALMA produces ground bars of the highest quality performance In terms of:
surface condition – class 4 – with no defects
dimensional accuracy of diameters – class IT6
surface smoothness Ra < 0,63 μm
straightness 0,2 mm/m
Mechanical properties of ground bars result from previously carried out processes of mechanical working and/or heat treatment.
Input material for ground bars can constitute of peeled or drawn bars. Thanks to the highest accuracies of workmanship, the use of ground bars allows for significant cost savings in further processes of the part manufacture.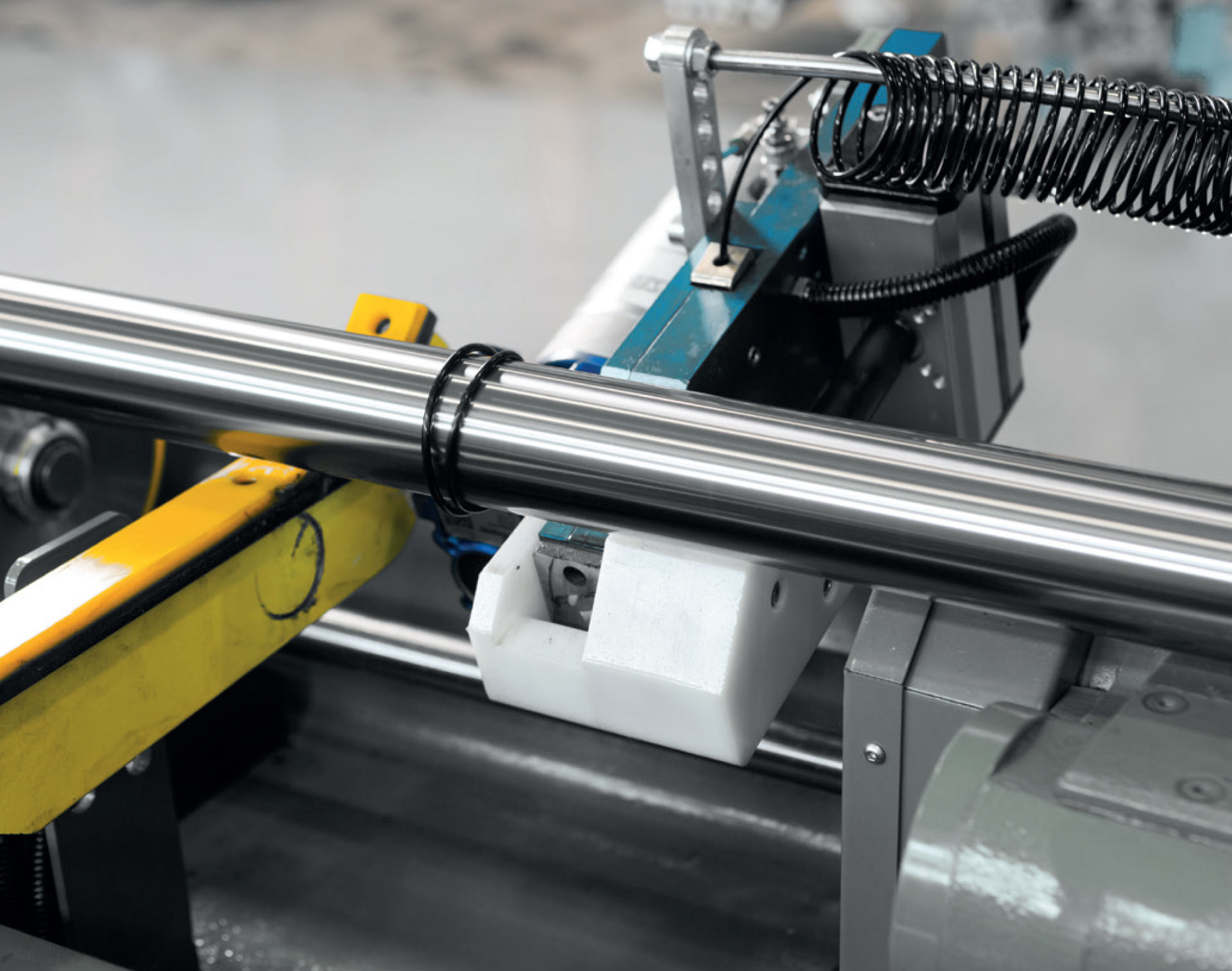 Protection of the Surface of ground bars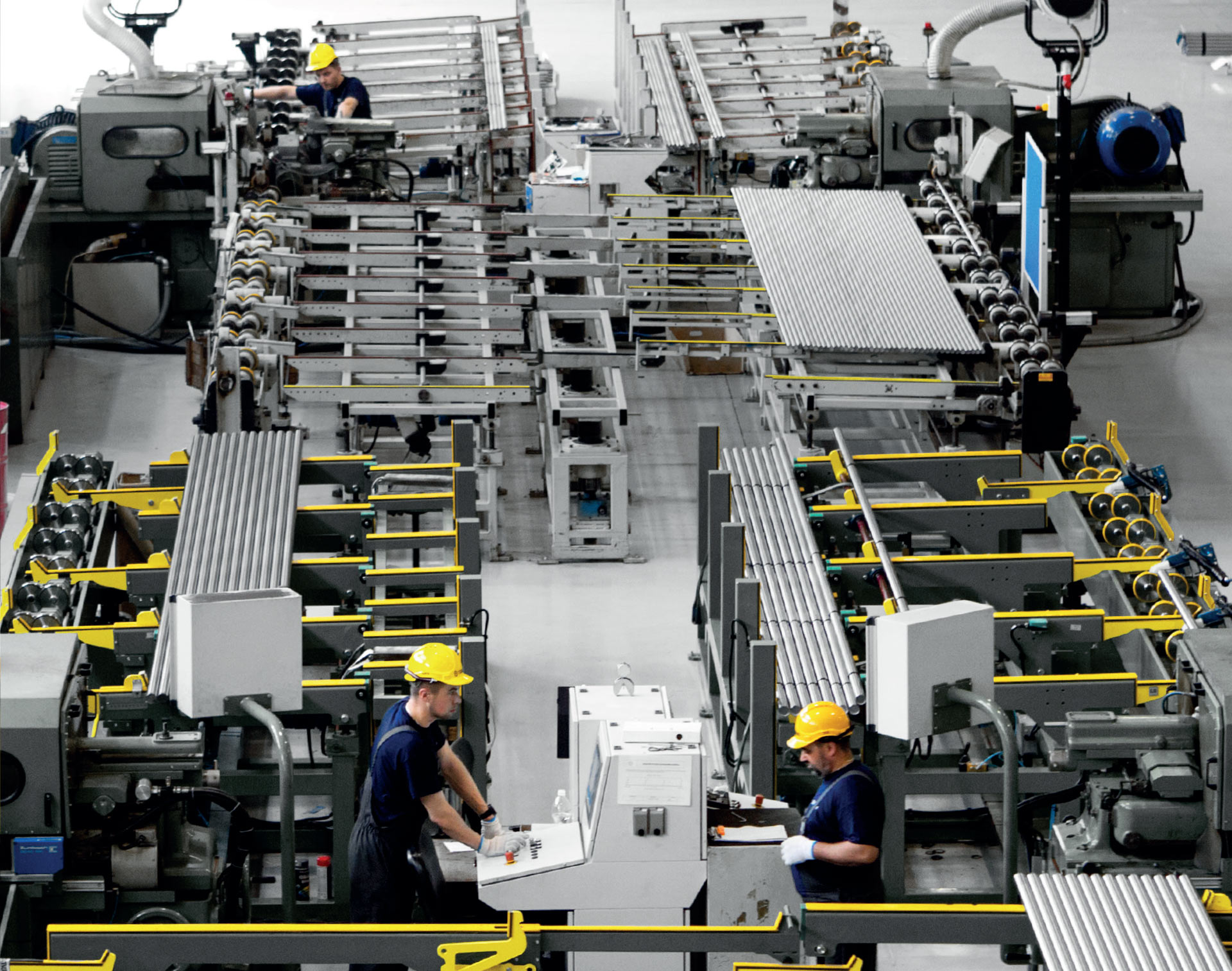 Grinding socket